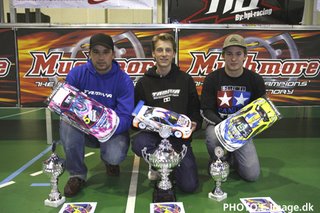 The 2nd Round of the Euro Touring Series took place from March 14th-16th, 2008 in Vejle, Denmark. Tamiya Racing Factory drivers and their TRF416 machines were out in force and completely dominated the competition in the Modified Class. Jilles Groskamp took home the win, with Marc Rheinard and Viktor Wilck finishing 2nd and 3rd respectively for an all-Tamiya podium.
About the Euro Touring Series
Started in October of 2007, the Euro Touring Series is a series that takes place at both indoor and outdoor tracks. Spanning 5 rounds that take place in 4 countries (Germany, Denmark, the Netherlands, and Austria), the series is a way for top R/C drivers to stay sharp over the winter in preparation for major races during the summer and for manufacturers to test out newly developed racing products.