Tamiya 42105 TRF501X World Championship Edition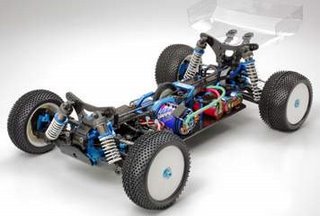 The IFMAR Electric 1/10 Off-Road Car World Championships are held in Japan this year and Team TRF will be there in force with their specially-tuned TRF501X machines. To commemorate this participation, Tamiya is announcing the release of a TRF501X World Championship Edition, featuring many special parts that will be used at this world-class R/C race. These option parts promise to bring out the true potential of this racing buggy.
About the Model
# 1/10 scale assembly kit R/C model of the TRF501X, with many special option parts added.
# Differential has been redesigned to increase performance and durability.
# New parts including aluminum caster block, aluminum rear upright, and reinforced upper arm mounts further enhance the buggy's ability to withstand the rigors of off-road racing.
# New ball connectors made from high-strength steel.
# New damper pistons made from Delrin, a lightweight and low-friction resin material.
# The entire drivetrain has been modified to improve power-transfer efficiency, with parts such as an 18T center pulley, 37T ball diff. pulley, and 369mm drive belts.
# Clear polycarbonate body shell has been redesigned for better aerodynamics.
Tamiya 42106 TRF416 Chassis Kit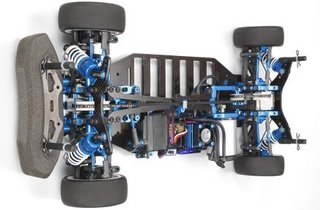 In recent years, world-class on-road R/C touring car race events have encouraged the use of brushless motors in conjunction with event-controlled tires. To achieve success under such conditions, a fine balance must be achieved between handling and tire wear. It is with this in mind that Tamiya designers developed the concept of the brand new TRF416 chassis.
About the Model
# 1/10 scale assembly kit R/C model of the TRF416 chassis.
# New 2.25mm lower deck design emphasizes simplicity, while the 2mm upper deck has been lengthened.
# Front and rear bulkheads feature the same width while everything about the chassis down to the screw locations has been designed for optimum symmetry for better roll characteristics.
# In order to obtain maximum traction, both the motor and the center shaft positions have been moved back to shift more weight to the rear of the car.
# Drivetrain features front direct-drive, center direct-drive, and rear ball diff.
# Front and rear uprights equipped with 1050 size ball bearings.
# 37T pulleys for front and rear, while an 18T pulley is installed in the center.
# R/C system, body, tires, motor, ESC, battery & charger separately required.