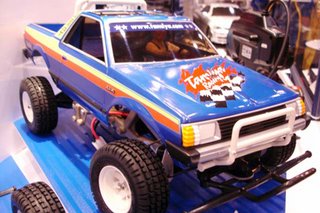 Tamiya brings back another R/C classic with this Subaru BRAT. Longtime fans will once again experience the nostalgia of their childhood and beginners can enjoy the easy operation of this colorful off-road truck.
About the Subaru BRAT
The Bi-drive Recreational All-terrain Transporter was created by Subaru in the late 1970's from their earlier 4WD station wagon model for the US market. Powered by a flat-four engine ranging from 1.6 to 1.8 liters in displacement, this pickup had the unique feature of having jump seats welded to the truck bed, which allowed it to be imported as a car instead of a truck. One of the car's more famous owners was former US President Ronald Reagan, whose red BRAT is restored and displayed at his former residence in California.
About the Model
High-quality 1/10 R/C assembly kit of the Subaru BRAT, one of Tamiya's early R/C creations.
Same 2WD chassis as used for ITEM# 58354 The Frog, with 4-wheel independent suspension and full ball bearings to handle tough off-road driving.
Comes with two body shells, one made of plastic material similar to the original BRAT for a nostalgic feel and one made from durable polycarbonate material.
Type 540 motor included.
Electronic Speed Control Unit (TEU-101BK) also included.