Translation from Tamiya, Inc. :
After the 1st feature, "Porsche turbo RSR934 racing" which, the [tamiya] electromotive RC car series should commemorate in 1976 December being sold this year 30 years. It concentrates the former know-how data of [tamiya], RC it appears "Plamodel [rajikonshiyo] 2006" leading, it releases the details "of Porsche 934" as 30th anniversary anniversary models!
Limitation sale!!
Item No: December of 494,002,016 sale schedule estimate value 74,800 Yen assembly kit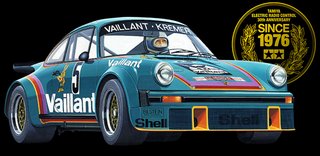 It is the chassis which it materializes converts history 30 year of [tamiya] RC cars.
30 years ago, since offering the pleasure which can be sent at Porsche 934, the RC car in order to be complete that pleasure, accomplished numerous evolution. Material of chassis, drive system, battery, motor, tire and body…. And with RC car world championship 2002, 2004 winning successively was achieved, apex of the world mastered literally.
Then, Porsche 934 is built up again as the machine which 2006 attains birth 30th anniversary, feeds back the data and the know-how which are obtained from race/lace freely, is located to the highest peak of [tamiya] RC.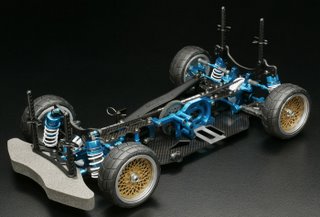 Total length 435mm full-width 202mm total height 130mm wheel base 230mm
It is in common to TRF414M and TRF415 which achieve IFMAR world championship two winning successively, the carbon graphite make double deck frame, adopting the aluminum make front and back bulkhead. Furthermore the natural steering feeling by the steering system which even with up-to-date [wakusumashin] "TRF415MSX [makurainatoedeishiyon]" is adopted, present up-to-date data such as chassis being slim by the isometric 2 belts and the cantilever center shaft which are superior in drive distribution was included mainly, it made the leading chassis.
Kit details
★ Front section
The aluminum steering wheel wiper which optimizes Ackermann
The ball diff. which raises the sense of security of running (equipment to front and back)
★ Rear section
Adopting the front and back aluminum bulkhead which is seen mainly in the high-end touring car. At one for Porsche 934 new you designed.
★ Motor mount & center pulley
As for direct center pulley in shaft cantilever type being slim motor mount. In upper deck the hallmark "of RC30thAnniversary since1976".
★ Body wing light/write
As for body polycarbonate make (not yet paint). With high formation technology, achieving the detail which is not different from the formation item body. Private PS color "cobalt green" simultaneous sale schedule. Wing, as for mirror formation item. Front and back light/write the part installs [tamiya] LED light/write unit of the plating being completed and selling separately of the formation item (TLU-01), also light/write illumination is possible.
★ Wheel
The medium narrow size which makes the rim part plated. The front 2㎜ which corresponds to the rear tread whose Porsche 934 is wide, the rear 5㎜ offset. The tire setting medium narrow racing radial.