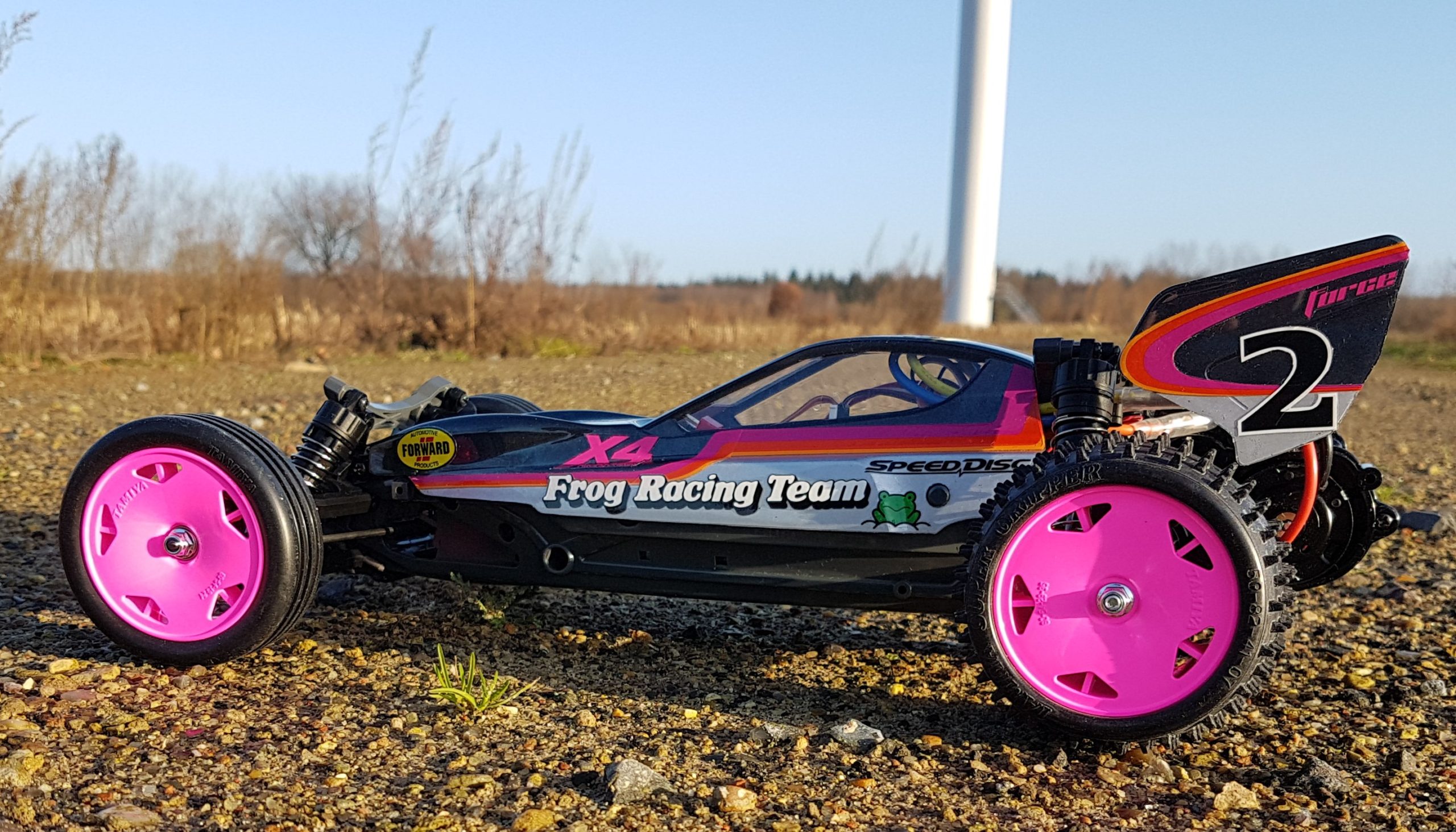 With the Neo Fighter on the DT-03 chassis, Tamiya launched a brilliant entry-level buggy a few years ago. The Kit already includes an electronic speed controller TBLE-02 S, a torque-tuned motor and CVA shock absorbers for a suittable price. Many thousands of children and teenager started their RC hobby with a DT-03 buggy or one of the precursor DT-01 and DT-02. Last but not least, the Tamiya Figther Cup is the world's largest RC car youth racing series.
We only replaced the plastic bearings with ball bearings in our Neo Fighter and exchanged the torque-tuned motor for a Tamiya Sport Tuned motor (the old black one – 53068). A Blue Bird BMS-617 is used as the steering servo. With this set-up, the Neo-Fighter already achieves astonishing driving performance and can still be easily mastered by an RC beginner.
While thinking about how we want to paint our Neo-Fighter, we looked dreamily into our showcase with the old Tamiya buggies and saw the good old "Nylon Parts Coloring Set" by Tamiya (53130). We knew then: the rims had to turn pink! We quickly came up with the "Black Avante" from Tamiya and it was clear that the body should be painted in a combination of silver (Tamiya PS-12) and gun metal (Tamiya PS-23). Looking for suitable pink decals, we looked through our stock and suddenly held the Vaillant Decal-sheet from the 1/10 Porsche 934 Turbo RSR in our hands. The color of the decorative strips was perfect and could easily be adapted to the Neo-Fighter Body.
We are more than satisfied with the result and are excited to see if you also like our Neo-Fighter.