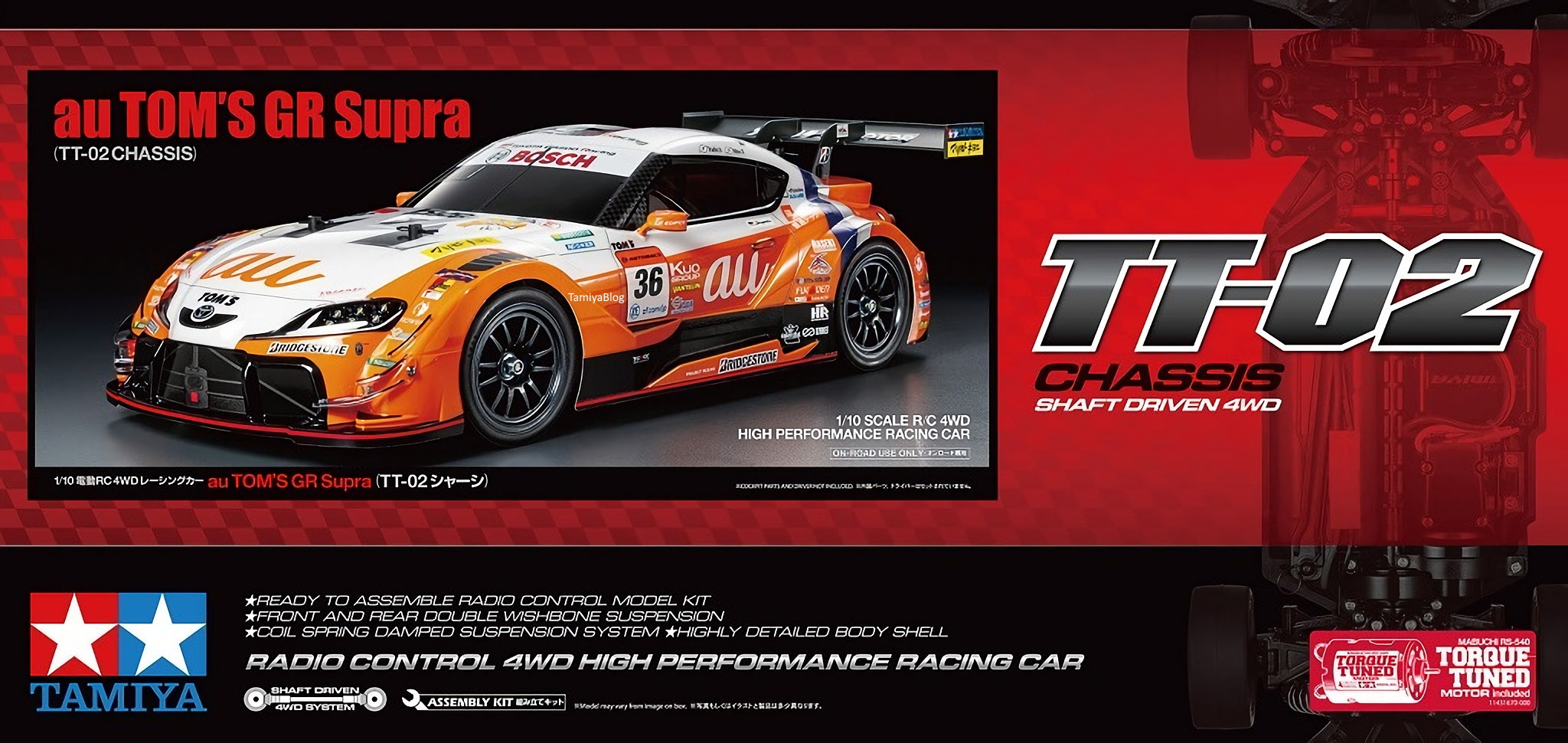 Tamiya is proud to announce the Toyota GR Supra GT500 as a 1/10 RC scale mounting kit to the TT-02 chassis.
The GR Supra GT500 was developed under GT500 class regulations to replace the LEXUS LC500 that flourished in three seasons from 2017 to 2019.
Featuring the aerodynamic design of the GR Supra road car, this race car features a carbon monocoque chassis, dedicated aerodynamic and drivetrain components, as well as a 2,000cc direct injection turbocharged inline 4-cylinder ("RI4AG" engine).
Model Features:
– R/C model assembly kit in 1/10 scale. Length: 466mm, width: 188mm, height: 125mm. Wheelbase: 257mm.
– The powerful shape of the GR Supra GT500 is stylishly reproduced by a rigid, lightweight polycarbonate body (clear) with separately molded polycarbonate front light shields (LEDs are not attachable. The "au" livery is faithfully reproduced.
– Includes set of stickers and masking sheet for use during the painting process.
– Separate black ABS resin parts realistically reproduce the side mirrors and the large rear wing.
– The model uses the 4WD TT-02 chassis with gimbal drive that offers high adaptability and stability.
– The 12-spoke gunmetal wheels are matched with slick racing tires.
– Includes item 51007 "M" urethane bumper (normally used on the TT-01E and TGS chassis) to keep the body in great condition.
– 540 motor included.