17901 Raikiri (Blue) & Dog Racer
Scheduled to be released in early spring 2022, Japan price 1,980 yen

Enjoy Mini 4WD more easily!
It is a semi-finished type mini 4WD that even beginners and small children can easily finish. Raikiri (Blue) The dog racer is a machine with a cute Shiba Inu driver riding on Raikiri, which has a flowing form that resembles the movement of a sword. The body is clear blue, and the chassis is also a blue color, which makes it a perfect match for the Shiba Inu with a graceful expression. Also, set the gear ratio to 4: 1 and look forward to racing with your friends. Dress up with colorful stickers such as bib numbers and star marks to complete a unique machine in a world full of originality.
MA chassis pursuing drive efficiency
The chassis has a simple shape with few protrusions and adopts MA that is easy to maintain. The double shaft motor mounted in the center, the rear skid bar made of low friction resin and 6 rollers realize high performance running. It is a chassis that can be used for a wide range of purposes, from beginners to veteran racers, from street races on small courses to official competitions on large special 5-lane circuits.
Basic specifications
● Overall length 156 mm, overall width 97 mm, overall height 43 mm ● With double shaft motor ● Can be assembled with simple fitting and screwing without using adhesive.
Items to be purchased separately
● 2 AA batteries ● Nippers, Phillips screwdriver
What is Beginners Mini 4WD
We recommend "Beginners Mini 4WD" for small children and those who are trying mini 4WD for the first time. Body and chassis parts are pre-cut and assembled. Separate the tires from the runners, fit them in, screw the front and rear rollers and rear stays, and put an animal driver full of love on it to create an attractive machine. The point is that there is almost no work that requires technique or power. We have also set a sticker that you can put on any place you like.
・Raikiri (blue) dog racer (left)
・Raikiri (pink) pig racer (center)
・Raikiri (green) panda racer (right)

Tamiya 63748 Official Guidebook Introduction to Mini 4WD Super Speed ​​Condele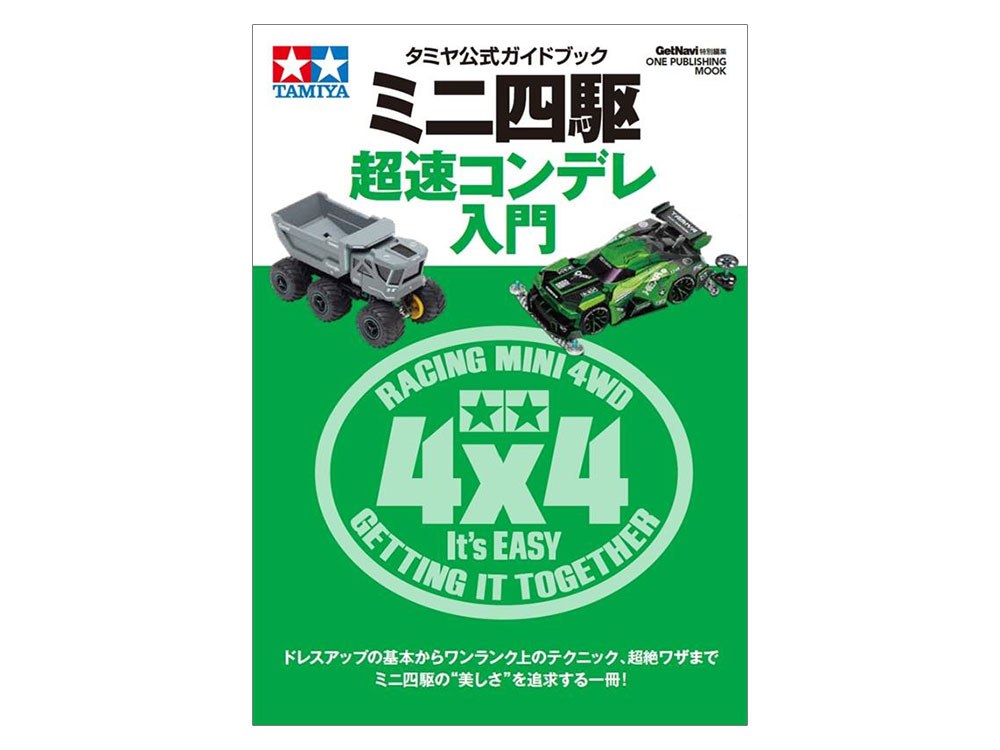 "I want to dress up the machine in a cool way" "I want to win a prize in the contest" Tamiya's official guidebook that introduces the tricks to upgrade from the basic knowledge of painting for Mini 4WD Conderer racers. The painting technique directly from the pro modeler Hasegawa Master and the transcendental technique of the regulars who won the Condele prize are also outstanding reading responses. Tamiya Mini 4WD Japan Cup 2021 Concours d'Elegance ONLINE winning machines will be introduced at once.
Main contents
★ Basic technique of body makeup Learn knowledge of paints and basic tools and basics of body painting ★ Higher-grade
dress-up technique Learn the
tricks of brush painting and airbrush painting ★ Condelemaster's transcendental technique
★ Mini 4WD "Bright" shooting technique
Format / number of pages: A5 / 128 pages / all colors
Issued by: One Publishing