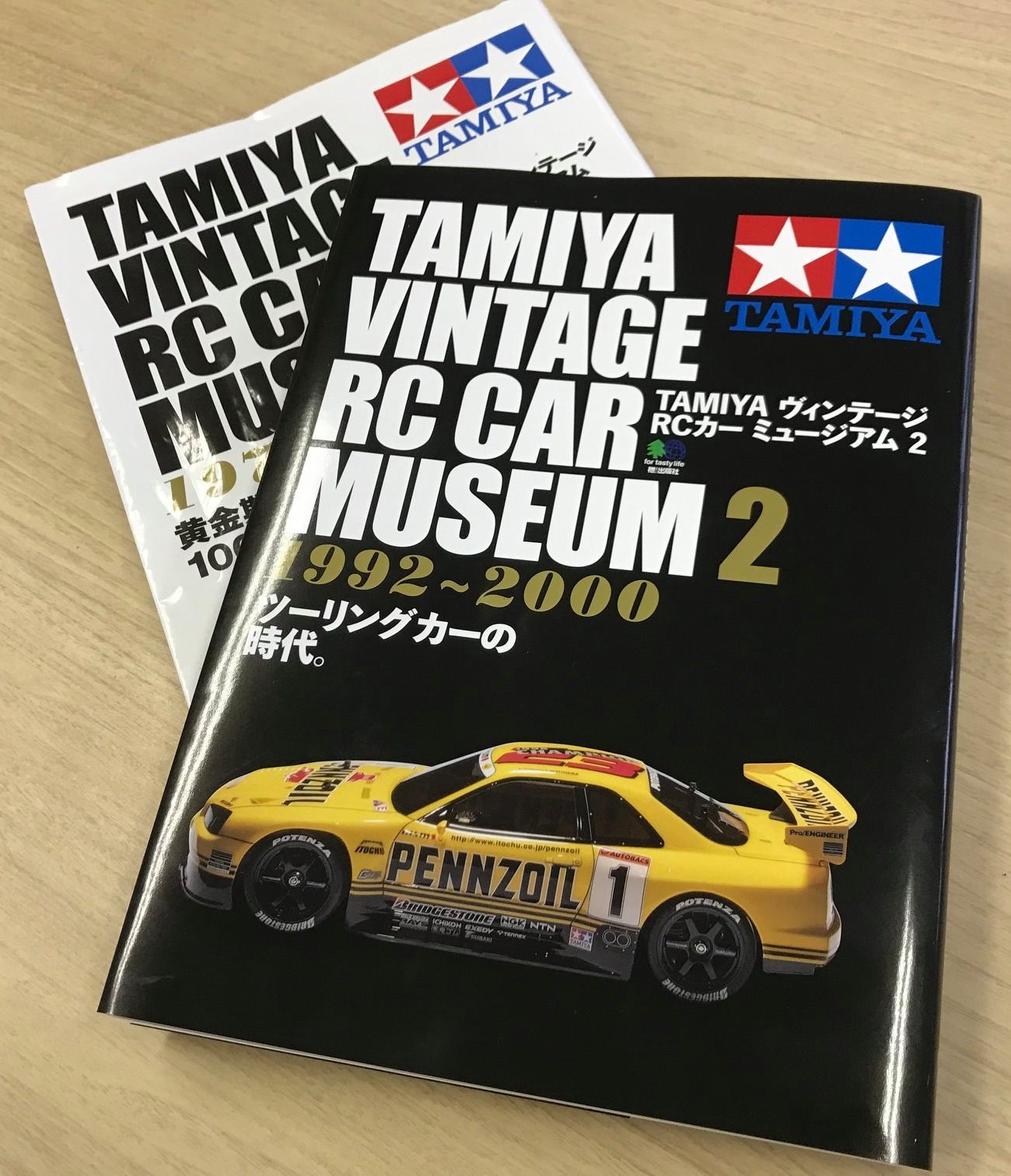 A sequel to the popular "TAMIYA Vintage RC Car Museum" is now available.
This time, the Tamiya RC cars, which appeared in 1992-2000, are covered almost entirely (some models are not listed).
As in the last time, all photos are taken down.
In addition, all box art of the machine which appears this time.
It has become a highly informative document that shows the history of Tamiya-made touring cars, which has become a major boom in the 1990s.
It is hoped that you can feel the "toring car enthusiastic era" Ibuki that shows the enthusiasm as if it was scorchingly heated from the various machines listed in this book, at circuits around the country.
※ "Jordan 191 (F101)" released in November 1991, which could not be posted on the previous "TAMIYA Vintage RC Car Museum", is now available.
In addition, "McLaren MP / 4 Honda (F102)" published in the previous work has been ommited.
CONTENTS
P008 …… Lotus 107B Ford
P014 …… Alfa Romeo 155 V6 TI
P020 …… Mitsubishi Pajero Metal Top Wide
P028 …… Rover Mini Cooper
P032 …… Fiat Abarth 1000TCR Berrina Corsa
P038 …… KURE Nismo GT-R
P044 …… Calsonic Skyline GT-R
P050 …… Rover Mini Cooper Racing
P056 …… Wild Willy 2
P062 …… Ferrari 360 Modena Challenge
P071 …… Jordan 191
P070 …… Bush Devil
P072 …… Williams FW 14 Renault
P074 …… Stadium Blitzer
P075 …… Mercedes Benz 190E Evolution II AMG
P076 …… Nissan R91 CP ('92 Daytona winning car)
P077 …… Super Blackfoot
P078 …… Toyota Hilux 4WD Mountain Rider
P080 …… Ford Escort RS Cosworth
P081 …… Schnitzer BMW M3 Sport Evolution
P082 …… Footwork FA13 Infinite Honda
P083 …… Concolor 4WD
P084 …… Dynastorm 2 WD
P086 …… Lancia Delta HF Integral ('92 WRC Champion Car)
P088 …… Benetton B192
P089 …… Toyota Celica GT-FOUR RC (Rally Competition) '92 WRC Driver's Champion Car
P090 …… Axia Skyline GT-R Gr.A
P091 …… Blitzer Beetle
P092 …… Idemitsu MOTION infinite civic
P094 …… Dyna Blaster 2 WD
P096 …… Super Hornet
P097 …… Michelin pilot Ford Escort RS Cosworth
P098 …… Castrol Celica (Toyota Celica GT-FOUR RC) ('93 Monte Carlo Rally winning car)
P099 …… Sauver C12
P100 …… Toms Levin
P101 …… Jack's Civic ('93 All Japan Touring Car Championship Class 3 Champion Car)
P102 …… Toyota Prerunner
P103 …… Blitz Toyota Supra Gr. N
P104 …… Newman Haas K Mart Texaco Laura T93 / 00 Ford ('93 Indy Car World Series Champion Car)
P106 …… About the TOPIC 1 formula chassis
P108 …… Renault Clio Williams
P110 …… AMG Mercedes-Benz C Kura DTM · D2
P111 …… HKS Nissan Skyline GT-R Gr.A
P112 …… Jeep Wrangler
P113 …… Feller 412 T1
P114 …… Ford Mondeo BTCC
P115 …… Promarkt Zak Speed ​​AMG Mercedes C Class DTM
P116 …… Chevy S-10
P117 …… Layall Hogan Motorola Laura T94 / 00 Honda
P118 …… Castrol Nissan Primera JTCC
P119 …… Opel Calibra V6 DTM
P120 …… Calsonic Nissan Primera JTCC
P122 …… Daytona Thunder
P124 …… Isuzu mu
P126 …… M1205 Hummer
P128 …… Loctite Skyline GT-R · N1
P130 …… HKS Opel Vectra JTCC
P131 …… Dart Slasher
P132 …… Ford F-150
P133 …… Volkswagen Golf VR6
P134 …… Toyota Celica GT-FOUR
P135 …… Toyota Toms Exc. JTCC
P136 …… Nismo Clarion GT-R LM '95 Le Mans participation car
P138 …… Alpine A110
P140 …… Ford SVT Mustang Cobra R
P141 …… Castrol Toyota Toms Supra GT
P142 …… BMW 318i STW
P143 …… Street Devil
P144 …… Taisan Porsche 911 GT2
P146 …… About the TOPIC 2 TA series
P148 …… Volkswagen Beetle
P150 …… Honda S800 Racing
P151 …… Repsol Ford Escort RS Cosworth
P152 …… Honda CR-V
P153 …… Williams Renault FW 18
P154 …… Eunos Roadster
P156 …… Audi A4 STW
P158 …… Volvo 850 BTCC
P159 …… Fighter buggy RX
P160 …… Peer Accord VTEC
P161 …… Alfa Romeo GTA
P162 …… Opel Calibra Cliff
P163 …… Martini Alfa Romeo 155 V6 TI
P164 …… Jack's Accord
P165 …… King Blackfoot
P166 …… Porsche 911 GT1
P168 …… F103 RX chassis kit
P169 …… Alfa Romeo 155 V6 TI Bosch
P170 …… Honda S-MX lowdown
P171 …… Porsche Boxster
P172 …… Pia Nakajima Reinard 97D
P173 …… Mitsubishi Lancer Evolution IV
P174 …… Toyota Celica GT-FOUR '97 Monte Carlo
P175 …… Mercedes Benz SLK
P176 …… Nissan R390 GT1
P178 …… Brazing Star
P179 …… Mad Bull
P180 …… Volkswagen Golf V5
P181 …… avex children's dream infinite NSX
P182 …… Porsche 911 Carrera
P183 …… Opel Vectra STW
P184 …… Subaru Impreza WRC
P185 …… Peugeot 406 ST
P186 …… Ferrari F 310 B
P187 …… Pia Porsche 911
P188 …… Ford Escort WRC
P189 …… Mitsubishi Lancer Evolution IV Monte Carlo specification
P190 …… About TOPIC 3 TA03 series
P192 …… Toyota Corolla WRC
P194 …… Baja Champ
P196 …… Mobil 1 NSX
P197 …… Ford SVT F-150 Lightning
P198 …… Peugeot 306 Maxi WRC
P200 …… Pen's oil Nismo GT-R
P201 …… Mitsubishi Lancer Evolution V WRC
P202 …… Subaru Impreza WRC
P203 …… Ford Mustang Cobra R
P204 …… TA03R-TRF special chassis kit
P206 …… Toyota GT-One TS020
P208 …… Juggernaut (Ford F-350)
P210 …… Porsche 911 GT1 '98 Le Mans winning car
P211 …… Castrol infinite NSX
P212 …… Wagon R RR
P213 …… McLaren Mercedes MP4 / 13
P214 …… Honda S2000
P216 …… Penzoil Nismo GT-R (R34)
P218 …… Toyota Altezza
P219 …… BMW M Roadster
P220 …… Ford Focus WRC
P221 …… Mercedes CLK CLK-GTR Original Taille
P222 …… TA03R-S TRF special chassis kit
P224 …… Alfa Romeo 156 Racing Italy Super Touring Car Championship Specifications
P225 …… Audi R8R
P226 …… Stadium Raider
P228 …… Toyota Celica
P229 …… Peugeot 206 WRC
P230 …… Toyota Aristo
P231 …… Blitzer Beetle Chrome Metallic Special
P232 …… Toyota GT-One TS020 '99
P233 …… Raybrik NSX '99
P234 …… Calsonic Skyline GT-R (R34)
P235 …… Juggernaut 2 (Ford F-350)
P236 …… Mitsubishi Lancer Evolution VI WRC
P238 …… F103 LM-TRF special chassis kit
P239 …… Subaru Impreza (German German Rally Championship Winner)
P240 …… Mercedes Benz CLK DTM 2000 Team D2
P241 …… Toyota bB
P242 …… TA04 PRO
P244 …… Reibrik NSX (2000 specifications)
P246 …… About the TOPIC 04 M chassis
Source: RC World Magazine