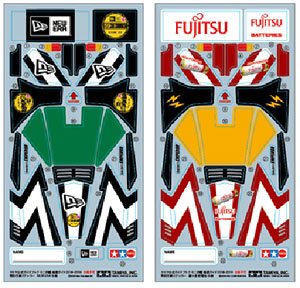 2018 – 2019 edition of the Tamiya official mini 4WD guide. Introduce the latest techniques of tuning and dressing up. Many winning machines of the official race are also posted. Appendix Dash No. 1 · Emperor Memorial – J-CUP 30th Anniversary – Special version sticker for 2 versions!
– Introduction from Japanese cup countermeasure to dress up surgery in easy to understand with photographs and explanations.
– It is a must-read book of Mini 4WD Fans with plenty of information such as characteristics of the basic chassis, how to choose upgraded parts, introduction of the machine of the top racer and so on.
– 2 special dress up stickers are attached as special appendix.
– Number of pages: 96
– Special Appendix: Two embellishment dressup stickers (NEW ERA / FUJITSU) are included.