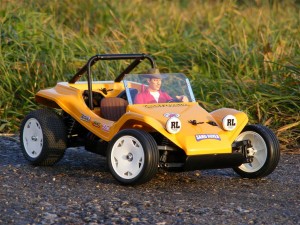 Here it is, the Tamiya Sand Rover 2011.  A car, or I better call it a dune buggy (because it is the real dune buggy!) Tamiya fans waited so long for. After the Holiday Buggy 2010, Tamiya does the next step and releases one of the most popular Tamiya off road cars ever on the famous and solid DT-02 Chassis.
As mentioned before, the  modified Sand Rover body sits  now on the modern DT-02 chassis which is well known from the Tamiya Desert Gator ,  Sand Viper ,  Neo Falcon and of course the Holiday Buggy 2010. The car is meant as a real beginners car.  So it comes with a classic RS380S Motor as standard which is perfect to do the first steps into this wonderful hobby.  But you can easily change that to a 540 sized motor.  Our car is equipped with full ball bearings – Tamiya CVA oil filled shocks – high torque servo saver – Desert Gator wheels and front tires and Tamiya pin spike tires on the rear for that extra piece of traction on the track. Also a mild brushless system is used which is comparable to a 27 turn brushed motor but much more efficient.
For the body we chose a warm Tamiya TS-34 Camel Yellow, a colour I love, because it transforms the Sand Rover directly back into the 70's.
When the weather gets better, we will see how the new Sand Rover can perform. 🙂
Enjoy!!