Posted on September 5th, 2009 at 11:46 AM by
admin
The inspiration for this week's Tamiyablog entry: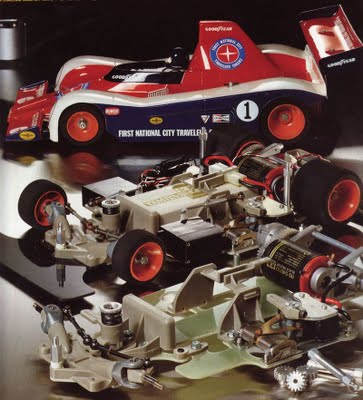 Yes, as the title implies, the model below is a joke! After getting the idea with the Neo Bigwig that I presented here on the blog a few weeks ago, I started thinking about other old Tamiya models that might have design similarities with the Keen Hawk, especially the swooping lines and the large and high air intake. This ended up with one more Keen Hawk body painted in the scheme of yet another vintage Tamiya buggy, a model that will be presented here on the blog soon.
However, in the process, it struck me that also the Can Am Lola and the Porsche 936 actually have design similarities with the Keen Hawk body, so I painted a Keen Hawk body to resemble the Can Am Lola, but followed the lines of the body rather than strictly doing the paintscheme of the Lola. It's just a bit of unserious fun though, as a "Racing Master Mk. I" based on a buggy is quite unthinkable, but I still like the idea to be honest.
The A-pillars/rollbar were painted black because of the black surrounding of the cockpit on the Tamiya Lola (clear windscreen on the fullsize Lola), but regret not painting them red instead, but otherwise I'm pretty happy with the result. And as it's in no way meant to be a serious model, the stickers are a combination of repros and selfmade, as I think using an original sticker sheet would be a shame on anything but a Lola body.
Just like on the Neo Bigwig, I used white TNS-B dish wheels, but dyed them red with Dylon fabric colour. The colour used is the very light red "Scarlet" to avoid getting dark red wheels and I opted to dye them just for a short time to mimic the "semi-translucent" wheels of the Lola.
The chassis came from my Dark Impact, where all parts that were originally other colours than black were replaced with identical black parts where possible, except for the wheelnuts to stay in line with the Lola.